Horses for Sale
| | |
| --- | --- |
| Breed: | APHA |
| Sex: | Female |
| DOB: | 2001 |
| Sire: | Mr. Jessie James |
| Dam: | Skips Painted Jewel |
| Price: | $1,450.00 |
Montana Gem is a very elegant 15hh, 9 year old, Chestnut APHA mare, sired by Mr Jessie James and out of Skips Painted Jewel. Tanna is a beautiful mare with an excellent temperament and excellent conformation. She would be well suited to english or western riding. She has been trained western and walks, trots and canters under saddle, however has been primarily used for breeding the last couple of years and has had 2 beautiful APHA foals.
She is a very willing mare who aims to please her rider and handler.
She has no vices and is an easy keeper.
Tanna would do best with an intermediate to experienced rider.
| | |
| --- | --- |
| Breed: | APHA |
| Sex: | Male |
| DOB: | 2005 |
| Sire: | Mr. Glammer Boy |
| Dam: | Cherokees Cricket |
| Price: | $1,600.00 |
Sundown Lightfoot is a gorgeous 5 year old, 15.3hh APHA Gelding sired by Mr Glammer Boy and out of Cherokees Cricket. Jimmy is an all around show prospect with 1 month of professional training.
He has an excellent temperament and loves people, is easy to catch and has no vices. He will require an experienced rider to further his training as he is still young and was breeding prior to being gelded.
Jimmy currently walks and trots under saddle and has started to canter. He is great to stand for the farrier and vet. His personality is a great addition to his beautiful tri-color coat. He has unlimited potential and would be a great addition as an all around show mount in both english or western.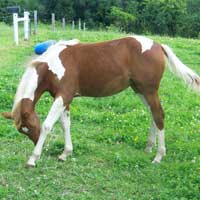 | | |
| --- | --- |
| Breed: | Mustang/Paint |
| Sex: | Female |
| DOB: | 2008 |
| Sire: | Sundown Lightfoot |
| Dam: | mustang |
| Price: | $650.00 |
Vegas is a beautiful Mustang/Paint filly who will turn 2 in February 2010.
Her sire was a registered APHA Stallion who is now gelded and her dam was a BLM mustang mare.
Vegas has a very sweet, cuddly temperament and loves attention and people. She is an excellent all around show prospect, and should finish 14.2-15hh. Vegas would also make an excellent 4-H prospect.
She has lovely movement and would be suited to hunter/jumper, or western pleasure riding, trails and more.